| | |
| --- | --- |
| Location: | San Diego, CA |
| Venue: | San Diego Convention Center |
| Date: | July 14th - 17th, 2005 |
| Attendance: | ~ 100,000 |
| Photos: | 320 |
Comic Con 2005 takes place again for the 36th time, featuring comic book guests and merchandise from around the world, science fiction and horror, Star Trek and Star Wars, popular television series, wrestling, music, martial arts, video games, and about anything else appealing to the popular culture. Guests include Bruce Campbell, Stan Lee, Kevin Smith, ... San Diego transforms under decent of Comic Con attendees into a weekend like no other.
The San Diego Convention Center has around 1.1 million square feet of function space, split into a very long, very large exhibit hall on the ground level and numerous meeting rooms on the upper level. All but one hall is used as the merchant's room, though there are really several different sections blending together for small press, independent retailers, studios, and big industry. The upper meeting rooms look out onto a balcony and the bay, populated by numerous marinas and industries. On a removed peninsula, an outdoor amphitheater provided concert space. On the street side of the convention center, numerous hotels are visible, towering high into the sky to house the tens of thousands of non-local attendees. Luckily, also within close vicinity are many standard downtown features, such as theaters, restaurants for all price ranges, a mall with a food court, a grocery store, and even the airport is only a mile away.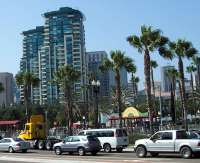 The Convention Center itself is very spacious, though the hundred thousand attendees can make it feel crowded especially on the main day, Saturday. Efficient crowd control is also essential to keeping things running smoothly. The main exhibit halls are enormous, each one providing plenty of room for merchants and displays. Combining Halls A though G, the exhibit hall contained 57 aisles, each probably about 1000 feet long. Just walking from one end to the other can take ten minutes, easily more if there are crowds. Luckily, the aisles are fairly wide and allow for easy passage. Occasionally photographers or raffle events will slow things down, but it's generally easy enough to get around. The real problem is knowing where to go if looking for something in particular. Even though the big companies have enormous floats and signs, they tend to obscure the view down the length of the hall. Without a map, it's easy to get lost; at least after a few trips back and forth the whole hall, one gets an idea where things are. Also within the exhibit hall are restrooms and cafes.
Other than a few stands and tables, all other events are held in the upper level. Two pairs of long elevators lead upstairs and back down, to the east and west ends of the convention center. The west side held the main panel rooms, three of which hold around two thousand people each and were often packed to capacity. The east side held a number of smaller meeting rooms, but one very large showing room (Ballroom 20), which was set up as a large theater, holding around five thousand people, and four screens for everybody in the room. In the middle, a large sail pavilion houses the art show, registration, a cafe, and an autograph area. This multi-function room was utilized well, and was turned into a dance hall in the evening. The canopy roof provided excellent, natural light, a welcome change from the artificial halogen light found most elsewhere.
The outside halls are very wide, allowing plenty of space for people to sit and rest, even if there are very few chairs or benches to be found. Luckily, there are a number of places with power outlets available, something very convenient for the many people sporting laptops or other electronics. A number of people watched DVDs, played on portable PSPs, or chatted amongst the Nintendo DS users. Even more people simply took a break and compared purchases and traded stories. The only cases in which the halls were not big enough were when the various lines for the elevator, Starbuck's, registration, or other events spilled over and mixed, blocking traffic in the confusion. Once conjection starts, it's hard to stop since there are always more and more people coming into any given area.
The Comic Con setup was reasonably well planned and logical. The dealer's room was partitioned into areas for smaller retailers, independent artists, production companies, collectors, and so forth. Booths set up in the ground-level hallways provided the basic convention services, while those up top filled in the spaces between other specific events. The overall layout works very well. Despite having two levels, it is very linear, making things easy to find -- at least if you know which way to go. From where ever you are, wherever you need to go is either the way you came or further on ahead. While the sheer size of the event can make things confusion, with so many people and events to deal with, it's probably about as good as it could be. The only thing really lacking was a main information booth, something I think would have had a nice home in the sail pavilion, located right in the middle of the building. Even with all the maps, even with all the guides, it's still not always clear when or where to go.
By virtue of its size alone, it's not surprising to find a very wide demographic distribution at ComicCon. Comics have been around since before anybody at the convention was able to read, and such a long history will bring in fans of all ages. Even as far as contemporary fandoms go, ComicCon covers a wide variety of interests, so fans of all sorts are tossed together here. Being so big, the demographic is really just a slice of the general population instead of a focused group.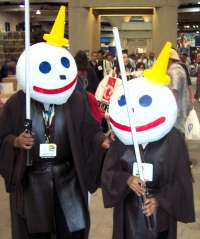 So, there's any kind of person you'd like to meet at the convention. The sort of homogenization other conventions have is good for providing definite focus. What makes ComicCon great, though, is that there's plenty of varied content. This makes for a very dynamic atmosphere, and even maybe an overload. While much of the content is unrelated, it does all fall together as part of pop culture. Fans of, say, Star Wars, are likely to become interested in Star Trek or anime should they be preperly exposed to it. So the main draw, the main effect, of ComicCon is to show people what they might otherwise not be interested in. There's a subtle but pervasive sense of awe throughout the convention.
As for the attendees themselves, the large, professional nature of the convention helps set a certain frame for acceptable behavior. As with any fandom based function, the limits of "permissive behavior" are fairly liberally set, but some conventions can come close to running out of hand. Some cons have a very much younger demographic, and a less involved staff. All it takes is a few individuals to act out, and people's general herd mentality quickly spreads the idea that dumb things ought to be done. With the slice of the population attending the convention, there is a much more adult (think, "responsible," at least supposedly) segment there, one which probably reminds others that irresponsible behavior would be looked down upon, not encouraged
With so many people together, it's almost amazing that the atmosphere could be as pleasant as it is. Most people are quite busy enjoying themselves and experiencing all kinds new things. Yet, with all the excitement, it's quite enjoyable and friendly. On top of that, it's free of some of the unpleasantness of other conventions.
CMX is a relative newcomer to the manga industry, a subsidiary of DC Comics. While many expect the manga sales boom to end soon, DC probably feels it's experience in the United States comic industry can turn out profitable titles. While CMX has a number of licenses, about half already in release and half still in initial editing, their flagship title is Tenjou Tenge, a definitely mature title with a strong following in the US. (Kamikaze Kaitou Jeanne and Kikaider are their other well known, popular tites.) The greatly anticipated release of the first volume of Tenjou Tenghe (as CMX romanized the title) was met with equal disapointment, with numerous changes intended to change the manga into a more suitable title for teenagers. The second volume found many of the same edits, indicating to most fans CMX would not present Tenjou Tenge as the "unaltered" manga it was billed as.
Expectedly, most people at the CMX panel were interested in the Tenjou Tenge issue. Even before the panel started, it was fairly clear that would not be addressed. The panelists were late; while not uncommon, it was certainly fitting. Perhaps, many thought, they would just cancel the panel to avoid dealing with the difficult questions. Well, they did show up, and started with a list of their titles. Comic Con will draws in all kinds of fans, so it's the best place for exposure. Missing from all their other titles was Tenjou Tenge; it was as if they didn't want to contaminate their other titles with the controversy.
Other difficulties the panelists, who were assistant or acting editors, encountered were problems correctly pronouncing the names of titles and actually showing enthusiasm for their products. Likely, they were worried about the inevitable questions regarding Tenjou Tenge. Obviously expecting such questions, they were very poorly prepared for them. The first question about it asked why anybody should buy their other titles if similar edits could be found there as well, which is quite pertient since other CMX titles are also fairly mature. The next directly asked why they weren't discussion Tenjou Tenge. With obvious nervousness, they answers were that the consumer didn't have a choice other than buy the CMX title if they wanted Tenjou Tenge, and that it wasn't really quite worth their time to talk about Tenjou Tenge.
It seemed to me they were really just shooting themselves in the foot. Fans do, for better or worse, have the option of finding illegal scanlations of the Japanese releases without the edits. With such piracy a big concern for the anime and manga industry, CXM is practically encouraging fans to commit copyright violation. As for their other titles, they should present CMX as a publishing group, not just one particular title. But Tenjou Tenge is obviously their flagship title, and if their treatment of such an important title is so botched, it's only fair to expect all their titles to flop.
Of course, on the other side of things, CMX needs to make money first, and appease fans second. Many companies, and certainly any anime or manga company in the US will have to contend with unpopular translations or edits. Though it's doubtful if CMX will be profitable after alienating their core consumers, they may be able to make up lost purchases from these with the large group of younger consumers to whom the title may now be available. The honest, fair -- if poorly received -- answer would be to simply say the edits are what they want and how they think it will sell better. Instead, they tried to dodge the issue and pretend it wasn't there. The direct answer would have looked a lot better for them, since it would have ended the discussion at the panel and given their decisions credibility. Instead, it looks like they know they're doing something wrong and don't even want to deal with it. While it's still anybody's guess how CMX turns out, this is certainly a poor start for them.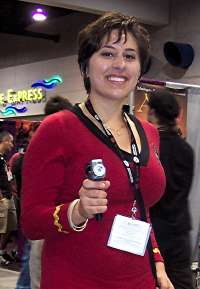 With the recent cancelation of Star Trek: Enterprise, it's the first time in seventeen years that a Star Trek television series has not been on the air. Many fans worry that such a shift could mean the end of the franchise. Even though the clear answer is, "no," director Robert Meyer Burnett, author Jeff Bond, and producer Daren Dochterman held a panel really more about what strengths and weaknesses the franchise has had, and where fans can expect to see things go for the immediate future.
The basic point of each discussion was that the franchise hadn't died at all yet. The current halt in production is a lull in a larger cycle of interest. The thousands of fans in the panel room clearly show the fan base is still active and viable. The many kinds of expressions of fandom, from online roleplaying games to amateur movies, are a clear indication that it won't fade from people's mind any time soon. With any franchise -- or probably any hobby -- interest comes and goes in a cycle. Though we may not wish to admit it very much, our fickle human nature makes novelty and originality powerful guides of our attention. Even from the business point of view, as long as there could be a potential profit to be made, the franchise will still go on.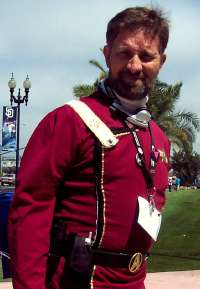 The current decline in interest in the Star Trek franchise does have some particular grounds, though. While Deep Space Nine was still a big hit, Voyager and Enterprise had faults which drove away both the average viewer and the fan. Looking from the top down, Star Trek had started to become more of a profit machine for Paramount than a bold television series. While much of the same talent, enthusiasm, and dedication was there, the change in direction affected the whole feel of the show. On the bottom, the direction seemed to be lost in many respects. Character development, story evolution, and overall progression of the series started to interfere with the most important thing in any show, the actual story. By the end of Enterprise there was a clear difference between stories that were assembled to be used to build a television episode, and television episodes which were the vehicle of great story telling.
The original series seemed to be the "best" Star Trek as far as the panelist were concerned. Perhaps not for it's technical advances or even great writing or style, but for presenting the vision of Star Trek. What made Star Trek the phenomenon it is today were the issues it tackled. Taboo subjects, cast into the fake science fiction world, could suddenly be explored and understood. Over the years, the franchise had wandered away from this, and finally even the good science fiction elements could no longer really support the weight or provide the originality for hit television series. (Ironically, Enterprise was obviously going back to this idea, perhaps too obviously. The Taliban became the Suliban, and there's that Vulcan "AIDS" episode, complete with public service announcement at the end of the episode.)
Giving fans a hope of continuing Star Trek Enterprise, the fourth season actually had some notable improvements, particularly in the writing. It wasn't enough to save the series, and perhaps it's best so. Many feel it's time for a break, for Star Trek to be left alone for a while to refresh and for Paramount to reorganize the franchise. As mentioned, it's far from dead, and there's no lack of talent around to bring Star Trek back onto the commercial screen. The franchise is plenty rich to supply the fandom with inspiration for a good while, and even if now isn't the time, it's still a profitable investment for Paramount. Star Trek will be back, but really, it's not going away just because it's off the air for a while.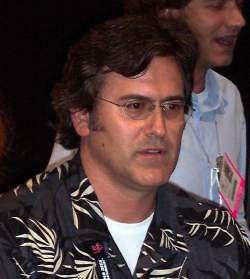 Unfortunately, I missed the Bruce Campbell focus panel (it can concurrent to the above-mentioned Star Trek panel). He had another number of panel appearances, but mostly as an addition to the main topic instead of with any focus on him. However, he was holding a number of autograph sessions. Dark Horse held sessions for The Man with the Screaming Brain in the Exhibit Hall, and in conjuction with St. Martin's Press, held an autograph signing of his new book, Make Love the Bruce Campbell Way. In addition to personalizing the book signing, he was also kind enough to autograph another item, as well. They even had somebody standing by to take a picture while Bruce met and greeted the fans. He was understandably rushed, though, and nobody had much time to actually get in anything more than a "Hi how are you I love your stuff!" It does mean that more people get a chance at an autograph, so it's a pretty fair deal. Mr Campbell is said to be quite a nice guy, so it's just a shame it wasn't realistically possible to get to know him a bit more.
Together with Comic Con, the San Diego Symphony Orchestra and the Summer Pops Concert Series, the Dear Friends Music from Final Fantasy concert was held at the Embarcadera Marina Park South, just behind the convention center. An outdoors venue, chair seating was available from the front of the stage to about 400 fete back, where lawn seating was available. There was a mix of patrons, from the fancily dressed to those who literally walked in from the convention. I'm glad it was an outdoor venue; seeing ripped jeans and faded tee-shirts inside a formal concert hall would have felt awkward. Despite the cool evening breeze, the outdoor location added a nice atmosphere, with a beautiful marina in front of the architecture of the convention center, and the bay on the other side.
It's hard to convey music with mere words. The various symphonic and arranged Final Fantasy music albums should give an idea of what the music was like. There was an undeniable tension and excitement in the audience; for many, this concert was something only dreamt of in the past. Needless to say, the music and performance was astonishing. Twelve songs (including a longer medley) were performed in two sets of three before and after an intermission. To add to the experience, three screens above the orchestra showed various scenes from the Final Fantasy series.
One of the highlights of the concert came at the end of the first half, right before the intermission. One of the most famous scenes from Final Fantasy VIII is a ballroom dance scene including fireworks in the sky. Times to coincide with the fireworks on the screen, fireworks over the bay went off, providing a visual stimulation to augment the music.
unfortunately, shortly after the intermission, at the beginning of the seventh song, helicopters (probably sight seeing tours or from the nearby naval base) flew almost directly above, ruining the music. Though the -- likely much annoyed -- orchestra kept playing, once the noisy intruders were gone, the conductor stopped the music, turned around, and said, "Let's start from the beginning, shall we?" The crowd cheered enthusiastically.
Perhaps the best part of the concert was the encore. After the final piece, the choir came back on stage and waited for the return of the conductor. Since Liberi Fatali had been the opening piece, it wasn't hard to guess the encore song would be One-Winged Angel, one of the series most striking pieces, not to mention the theme song of one of the most popular characters, Sepheroth. It was all too short, but there was one more little surprise for the audience. A second encore of One-Winged Angel.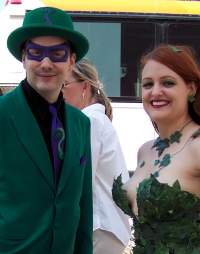 There's more cosplay at ComicCon than you can shake a stick at. As diverse as the fandom is at ComicCon, so too is the range of costumes encountered. Everything from anime bunny-girls to Star Trek klingons are all over the place. However, because of the mass of people, they don't seem quite as concentrated as at other (anime) conventions. In fact, there are so many different costumes and styles the costumers really do blend in with the rest of the attendees. However, there are also quite a number of literally show-stoppers, costumes so amazing people stop in their tracks to get a good look or take a photo.
In comparison to anime conventions, though, there seems to be less focus on cosplay. Many attendees may not be as interested in a costume from a fandom they're not as involved in. Many attendees may not recognize a costume as anything other than a Stargate outfit or an anime dude. There's also so much else to do, and such a broader range of interests, that many people may not be able to take it all in. It does, however, give a taste of fantasy to the whole convention, with all kinds of costumers walking around just like everybody else, a completely normal part of the event.
The masquerade event is undoubtedly one of the biggest of the convention. Though a pre-event ticket distribution system is used, fans are still lining up hours ahead of time for good seats. (Actually, with the four large screens distributed throughout the event hall, even those in the back will get a good view of the show.) With sixty entrants, the show displays a lot of different ideas and skits. Perhaps it was just this year, but the organization kept the flow going fairly well. Many entrants did a short walk on, with a few twirls and poses to show off their work. In many cases, a costume speaks for itself, and doesn't need to be explained or highlighted with an elaborate skit. A shot display fits much better to the short attention span of an audience which has been sitting around for several hours already. Overall, it was quite a nice event, worth going to for anybody even marginally interested in costumes.
If there's one thing to be said about ComicCon, it's "big." Both in width and depth, CamicCon has it all. For fans of anything pop-culture related,, ComicCon will have it and present it well. For fans with many varied interests, it's the place to go where you really can have it all at once. For fans of even one thing, there will be plenty of offerings; more importantly, there are many chances to get into other similar interests and expand one's horizon. To top it all off, the con goes from the evening of Wednesday until the afternoon on Sunday, which comes down to about 96 hours of convention time. Compare that to many other cons lasting only about half that, at 48 hours over a regular weekend.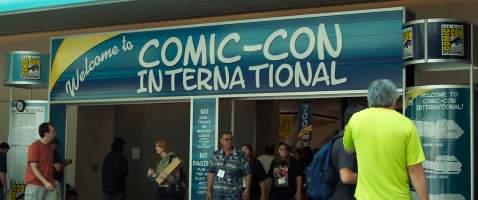 The size is also the one drawback. Hotel space comes at a premium, and oven moving about within the convention center can be a trek on it's own. Without some attention to planning, it's easy to miss an important panel or signing. With big name guests showing up unannounced, many great opportunities can go by without even being noticed. Inevitably, one will hear about some recent event that was particularly exciting or interesting. All this really comes down to one thing, though. There are just so many opportunities at ComicCon, it may be hard to really do them all. So, it's probably best to go to ComicCon with realistic expectations.
ComicCon will take a lot out of you. Days are long, but exciting. There's quite a bit of waiting in lines and walking around. A schedule is indispensable, and priorities have to be set. Last, but probably far from least, it won't be cheap, either, unless you're lucky enough to have some place to stay for free nearby. Just like any major event, though, some smart planing ahead of time will mean enjoying the experience to its fullest.
Standard Disclaimer

Photos, layout, & content © 2005 Oliver Oberg