| | |
| --- | --- |
| Location: | Durham, NC |
| Venue: | Sheraton Imperial Hotel and Convention Center |
| Date: | May 26th - 28th, 2006 |
| Attendance: | ~ 4,000 (?) |
| Photos: | 580 |
Animazement was held May 26th – 28th, Memorial Day Weekend, 2006 at the Sheraton Imperial Hotel and Convention Center in Durham, NC. Despite unfavorable weather, a lack of furniture, and four other events taking place the same weekend, Animazement impressed it's attendees for the ninth year in a row.
(06/06/03) All done, all photos edited and uploaded.
(06/06/02) Mostly done, and just a week after the convention! Pictures will be up shortly!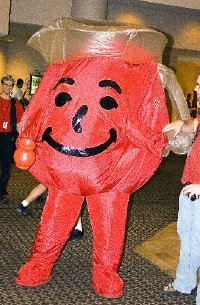 In the same location since moving to Durham, NC, in 2001, Animazement is held in the Sheraton Imperial Hotel and Convention Center, right off of interstate highway I-40. The Raleigh/Durham Research Triangle area is one of the biggest metropolitan areas between Washington, DC, and Atlanta, GA. Situated right in the middle of the East Coast, Animazement has drawn attendees from a wide area in the past.
This year, Animazement shared the Memorial Day weekend with four other events. Anime Boston in Massachusetts, Anime North in Toronto, Fanime in California, and the PLAY! video game concert in Chicago, Illinois. Memorial Day weekend is the unofficial start of summer. The main demographics for anime conventions, high school and college students, are mostly finished with classes and likely to not have started any summer occupations. It is a wonderful time of year for weather and travel, but in contrast to five years ago, North America is almost saturated with conventions. The prime time to start the summer convention season is one of the most packed all year round. As a result, Animazement (and likely the other events) drew much more local crowds.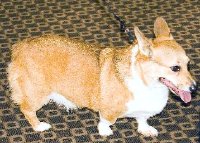 The Convention Center is attached to the Sheraton, but both an official overflow hotel and an unofficial one are within easy walking distance. There is plenty of space for all attendees, and being located away from everything else except the airport, the rates are relatively cheap for anime convention standards. (Business convention hotel rates can be well above the highest common anime con hotel rates, and often used by only one person.)
The attached Sheraton is obviously the most convenient, but the other two hotels, a Marriott Springfield Suites and a Comfort Suites charge the same rate but offer some better services. The offsite rooms are larger, the hotels feature pools and hot-tubs and have a complimentary breakfast for guests. Never underestimate a good breakfast at a convention.
The convention facilities are on one floor and offer a partitioned main hall, an auditorium, a second large hall, and a few smaller rooms off to all sides. One main hallway connects the lobby to the rest of the convention center, though a smaller side hallway allows room for queuing outside the main hall without taking up too much room in the main hallway. One of the nice features is that the hallway is fairly wide at most points, enough for the artist's alley outside the dealer's hall. Skylights and plenty of windows let in natural light during the day, and a number of exits make it easy to go outside if one wishes.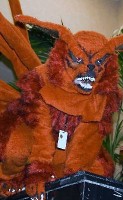 The wide hallways have always until now had plenty of room for couches, tables, and chairs for guests to use. This year, however, the convention started off with completely empty spaces where the furniture used to be. (I was there Thursday night already, and the couches were not yet gone, and Sunday evening they had returned.) If unfortunate for anybody wanting to sit down, it did provide more space in the hallways. I haven't heard of any problems with vandalism in the past, but one possible reason for the missing furniture could be precautionary action. More likely, though, the convention and/or hotel didn't want people sleeping on them. As effective as this is, I doubt it would stop many people from simply sitting along the walls or sleeping under tables in the artist's alley if they were desperate enough to sleep in the lobbies anyways. Stackable, metal-frame chairs did adorn the hallways by Saturday, which made things easier on everybody.
As mentioned, Animazement took place over a very busy weekend. The attendees were noticeably more local, most coming from the Carolinas, Virginia, and South. Animazement also considers itself a "family-friendly" convention. While in most cases family-anything means dumbed-down and over-sanitized, instead the staff has done a good job maintaining order without the need to harass their fellow fans. Local off-duty law enforcement is brought in to keep an eye on things and provide a reminder of the presence of the law.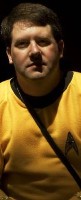 The convention also is known as one of the more relaxing, easier going conventions. The hospitality suite actually stocks snacks and lemonade. Most cons gave up providing anything other than water years ago. The hotel staff puts on the convention tee-shirts, and (perhaps intentionally) there seems to be very little mixing with regular hotel guests. The staff does try to tend to the attendees' needs as much as reasonably possible. The masquerade participants, while waiting in the auditorium, got a feed from the Musical going on in the main events room to keep them entertained. They also set up a screen in the hallway for overflow audience from the cosplay. Most conventions are run by fans, but here it really shows, in a good way.
Despite being a smaller convention and taking place at the same time as many other events, Animazement does manage to get some fairly big guests. Akira Kamiya returned for another year, and with a career as big as his, about everybody can enjoy his panels and presence. Rika Matsumoto was another guest and performed an opening song for the masquerade. (Two, actually.) Caitlin Glass, a US fan-favorite voice actress, was present for a number of panels and the premiere of the Magister Negi Magi anime.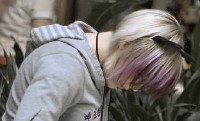 That being said, the programming in general seemed a bit plain. In the past couple of years, there was some emphasis placed on not only Japanese popular culture (read: anime and manga and video games), but on traditional culture, as well, such as a sushi chef explaining his art in years past. (Apparently, other commitments prevented him from coming this year.) There was a lone kendo demonstration to hold on to this ticket. The rest seemed pretty basic and the same kind of thing you'd find at every single convention you could go to. This is great for a newcomer, but a broader range of panels would benefit everybody.
What the staff did pull off well were both the masquerade and the music video contest. The masquerade organization is an eternal nightmare for the coordinator and his or her staff: Over a hundred cosplayers all having needs, a thousand people in the audience liable to get restless quickly, and probably a million technical problems to worry about. Even though it started late, the cosplay ran pretty smoothly, there were no real noticeable problems (other than a quick music snafu), and even judging didn't take too long. The music videos were also selected fairly well; they were most all of high enough quality to keep people entertained and had a few quite memorable ones.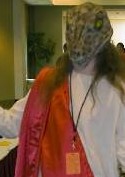 The Dealer's Hall is one of the two large rooms in the convention space, with a high ceiling and enough room for probably about 20 dealers. It's by no means any shopping extravaganza opportunity, but considering how stretched out the merchants were between four anime conventions across the nation, there was still plenty worthwhile to be had. The very anime/manga specific dealers do tend to carry a number of newer items. Even if it's hard to get the brand-new things from them right away, they should have at least a few things for everybody to be interested in. The "boutique" oriented stores, those selling EGL fashion, kimono, swords, and such tend to be on the rise as well. Seeing as how most dealers now stock most everything the general customer wants, having some less conventional merchandise around is a plus.
Animazement usually isn't a big convention for costume, but it does draw on a number of cosplayers who generally don't visit other conventions. So, for some, Animazement is still the convention to share their costumes. Bleach and Naruto are ever-popular, but you'll see a variety walking around the convention.

One of the nicer aspects of the convention are the wide open, well lit areas. The lobby has skylights and a central plant feature. In the middle of the convention area, another skylight lets light into a small arboretum. The natural light there, combined with the uncluttered and generally vacant background, make it a great place for photographs.
The masquerade itself was, as mentioned, fairly entertaining and not too long. While other conventions have adopted more elaborate plans, Animazement still uses a very simple three-minutes-on-stage approach. Some skits and costumes were lacking compared to the better, well thought-out ones. However, an absence of rigorous regulations means more creative groups can put on about any skit they please.
Animazement in the past has always had a great balance between a low-key atmosphere and still having plenty of events to attend and enjoy. Since it's held it's traditional Memorial Day weekend time, it's very accessible and stress free. However this year, the four other events presented some competition for attendees. Despite a number of good guests and a few particularly noteworthy events (the musical will probably be better remember than the cosplay), the programming lacked a bit. The social aspect was also diminished due to the more local turn out. Of course, for those who are just local, that's probably not a bad thing.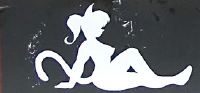 With next year being the 10th Animazement, it seems the upper-level staff may be changing their management plans. The current time and location work quite well. Despite potential "competition" at the same time, their numbers are steady and interest growing. Any science fiction convention numbering past 20 makes plans much differently from the relatively new anime conventions. They find their spot, get comfortable in it, and plan to maintain things instead of trying to expand each year.
I'm getting a feeling Animazement may be going in this direction now, too. It's certainly not a bad idea, and may be what makes the convention stay healthy for years down the road. Convention attendees have a "lifetime" of about five years. Many people, after going to conventions regularly for five years, find their hobby has changed from what captured their interest back then, or that their fandom has gone in a direction other than they expected. Relying too heavily on return attendees could be problematic for a lot of cons in the future.
Nothing much to say here, other than I'm happy my 1.8f lens is working correctly now. This will be the first report I do where I can link to the
gallery
for my best shots. Links in the report will take you right to the gallery, which features comments, ratings, and such. On a side note, this is also the first report that will be somewhat color coordinated.
Standard Disclaimer
Photos, layout, & content © 2006 Oliver Oberg